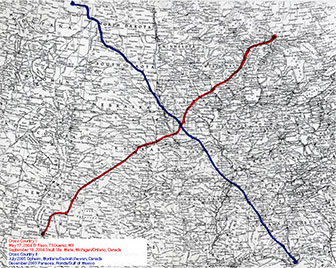 The Cross Country Projects
Cross Country I
A walking tour from Mexico to Canada
May 19 - September 18, 2004
Notes from the Road
On May 17th, starting at the Juarez, Mexico/El Paso,Texas International Border I will start walking cross country to the Sault Ste. Marie, Michigan border with Ontario, Canada at the Sault locks between Lake Superior and Lake Huron. This journey of nearly 2000 miles is expected to take about 4 1/2 months if a 15 mile per day average is maintained. Carrying my new panoramic camera and a digital camera, I'm planning to record the landscape along the way. On a similar trip in Japan some years ago, I learned that the landscape appears differently at the pace of 2 miles per hour.
There is a support vehicle and crew so that we can sleep roadside at the end of each day's walk, a helpful addition to a journey that will be mostly through rural and remote areas of New Mexico, Texas, Oklahoma, Kansas, Nebraska, Missouri, Iowa, Wisconsin, and upper peninsula Michigan. I hope to return home with a bunch of good stories and good photographs, too. This year marks the 200th anniversary of Lewis and Clark's remarkable journey to the Pacific coast. Our contemporary America is thoroughly mapped and explored, but few people today see the land from the perspective and pace that prevailed two centuries ago. I'm looking forward to the trip. Time and technicalities permitting, we'll be posting some images and comments on the website.
So far…
It's been 31 days and 500 miles in New Mexico and Texas, a little over 16 miles a day average and a quarter of the walk completed; we crossed into Oklahoma today. The roads have all been paved: divided four lane, four lane, two lane with wide shoulders, two lane with narrow shoulders, and two lane with no shoulders. Vehicle density has varied from high- hundreds an hour- to as few as 13 a day. The sights, sounds, and smells have been astounding in number and variety. The critter list includes antelope, deer, coyote, rattlesnake, and jackrabbits, plus all the usual suspects of farm and ranch animals - goats, sheep, cows, and horses, and even a few longhorn cattle.
The smells that are memorable are a wet pine forest in the Mescalero Apache Reservation, blooming mesquite, wild roses, sweet pea, sweet grass, winter wheat, fresh mown hay, and the orange squash blossom of wild gourds. Less savory but equally distinct are the various highway hydrocarbons, smoke, feedlots, and death. Encounters with rattlesnake and tarantula were very exciting but unusual. Even on the major highways, the sound of the big trucks and passing cars is only momentary. The Doppler effect of their advance and retreat takes only seconds. Silence and the sound of wind in my ears is more prevalent. There is birdsong everywhere from pre-dawn to dark. New birds to me this trip are the great-tailed grackle, scissor-tailed flycatcher, and the prairie falcon, plus a field of long-billed curlews which I had to buy an Audubon guide to identify. The ravens, magpies, a roadrunner, some Gambrel's quail, sage grouse, meadowlark, and morning dove were familiar, but nice to see again. There is a huge group of unseen, unidentified birds who added much to each day's symphony.
The smoke plume from the Peppin fire in New Mexico's Lincoln National Forest was visible for almost a week. The lightning-caused natural disaster created some stunning sunsets. One evening I photographed a rising full moon with the setting sun and the huge smoke plume from the fire. Other special sights were the new wind energy generator turbines on the Taiban Mesa, and the eerie light one evening as we were in a tornado warning area in the Texas panhandle.
My favorite places have been the quiet stretches between busy highways where five days can pass without seeing a gas station, cell phone tower, or power pole. The ability to be this remote and still have a bed to sleep in each night would not be possible without an RV. I am grateful to my son, Scott Foster, who has been the driver of the support vehicle. I appreciate his patience in those moments when I can not find my own.
Being a pedestrian on the highway definitely gives one the feeling of odd man out. The only other walkers I've encountered these last 500 miles were two women from a little community near El Paso who were out for a stroll before sunset. There have been many good Samaritans who have shown concern or who have offered a ride or help; to the truckers, drivers, and ranchers and law enforcement officers who have stopped I offer my thanks. Lots of other drivers help by giving me a little more space on the road, or who wave, toot, honk or salute as they pass me by. It's great to have their acknowledgment as we share a little of this journey cross country.
Farther along…
August 26, 2004
Today is the 100th day; it is 1568 miles between here and the starting point at the border in Juarez/El Paso. This morning I walked from Wild Rose to Waupaca, Wisconsin on Hwy. 22. It will be another 10 days in Wisconsin before crossing into the Upper Peninsula of Michigan for the last leg of the trip along the western shore of Lake Michigan up to the Soo locks in Sault Ste. Marie, Michigan/Ontario.
The landscape has changed markedly from the arid deserts of the Southwest and the flatlands of the Texas and Oklahoma panhandles to the rolling hills of eastern Kansas and Missouri to the forests and lakes of Wisconsin. The rivers with names like Rio Grande. Pecos, and Cimarron now have the regional native names like Wapsipinicon and Mississippi. Mesquite, cholla, and yucca have been replaced by sumac, maple and oak. The trucks and trains, which were carrying gas and coal, are now carrying milk, soybeans and corn. The open range with grazing beef cattle are now pastures with Holsteins and hogs. The crops which cover hundreds of thousands of acres have evolved from wheat to soybeans and corn to green beans, sweet corn, and tree farms. The hot, dry weather of the Southwest in the late spring has changed to cool, foggy mornings with days of high humidity, often threatening rain. Though it is only late August, the first touch of autumn colors is beginning to show. The asters and chamisa that mark August in New Mexico are now the asters and goldenrod of a Wisconsin August. Birds have been ever present; now there are flocks of Canadian geese, many varieties of duck, blue herons, and lots of sandhill cranes. Also, there have been raptors, cardinal, goldfinch, and wild turkey. I walk each morning from 5:30 or 6:00 until around noon, and am still enjoying the solitude and quiet along the smaller county roads and highways. There continue to be many good Samaritans on the road. Individuals, as well as county and state law enforcement personnel often stop to see that we are safe, to offer assistance, or just to wish us well.
As August is the start of the harvest, there are beginning to be roadside produce stands, and we have enjoyed sweet corn, tomatoes, and fresh vegetables locally grown. I've also found blackberries, mulberries, hickory nuts, and black walnuts growing along the roadside. One morning just after I left our camp at Union Grove, Iowa, I was looking at the eastern sky before dawn on a misty July morning when I happened to glance to the west and saw a full rainbow – horizon to horizon – before the sun had appeared on the horizon. I managed to get a digital photograph but by the time I had set up my panoramic camera the rainbow had vanished.
It lasted only minutes, but I'll remember it a lifetime.
End Point
I reached the Soo locks in downtown Sault Ste. Marie on the morning of Saturday, September 18th, day number 123. The US/Canadian border is the St. Mary river; the only international bridge between the US and Ontario did not allow pedestrian crossings, so my trip ended at the border of the Soo Locks , and I took a photograph showing Canada across the river. The trip totalled 1901 miles through eight states — an average of about 15-miles per day for the journey. The journey encompassed some 15 degrees of latitude and nearly 22 degrees longitude over two time zones.
There were no injuries, no accidents, and only one close call with a deer running out of the woods in Michigan's Upper Penisula which narrowly missed a collision with a car which narrowly avoided me. Nobody hurt, but it certainly got my adrenalin going. Iread thirty books, I lost about thirty pounds, and had to buy some new pants, and a new belt — a nice, intended consequence of having exercised five or six hours a day, seven days a week for eighteen weeks. I went through 3-pairs of shoes ( the ' pair are my mountaineering boots, seemingly indestructible, and probably good for another 1000 miles. I took about 2000 digital photographs on the four month trip, and about a dozen panoramas with the big camera. I will be busy printing the panoramas this fall and winter, plus having to learn the new skills required to make sense of the digital material.
All in all it was a wonderful trip, a leisurely yet rigorous way to see the country. It would not have been possible without the considerable efforts of friends and family, particularly Scott Foster who drove the support vehicle, Desiree Manville who managed the studio and handled the camera and computer work for the trip, and Alexandra Benjamin whose energy and love and support have been invaluable. Thanks, too, to my friends who came to visit or to walk with me during the summer; anticipating your arrival and remembering your visits added an essential ingredient to my long walk through the American landscape.